Who created this database?
The Improvisors Without Borders database is a product of the SHARE project.
SHARE is a two-year long project running from September 2020 to September 2022 and co-financed by the Europe Creative programme of the European Union. SHARE was founded by 5 partners from 4 European countries, all with different structures (cultural spaces, labels, performing arts organizations, collectives):
Anis Gras – Le lieu de l'Autre (France)

Le Fondeur de Son (France)

Zpoluras (Portugal)

The Community (Denmark)

Cricket Productions (Italy)
SHARE's goal is to encourage the emergence of a structured, visible and mobile European Improvised Music market

More information on www.shareimpro.eu
Is this database for Europeans only?
Improvisors Without Borders is the collaborative database for European improvisers, the aim of which is to develop and strengthen improvisation across Europe. It doesn't matter whether you reside in a European country or are a European Union citizen so long as your participation in the database matches the objective to develop a European improvisation network.
Is this database for musicians only?
The database was conceived by the SHARE project, which is mostly supported by musician collectives. However, Improvisors Without Borders is open to other artistic disciplines: dance, graphic arts, performing arts, poetry, rap, video, etc. That's why you can search people by their artistic disciplines.
What's more, not only is the database open to all the artists, but it is also open to all the European players on the Improvisation scene: scholars, record shop owners, researchers, administrators, journalists, photographs, managers, etc. 
Can I sell my products and services on this database?
Improvisors Without Borders aims at fostering solidarity among artists, promoting the practice of improvisation as a utopian way of life in the world, encouraging new collaborative models with a do-it-yourself and peer-to-peer approach, and, in doing so, strengthening our independence through solidarity and collaboration. 
The database is a tool made by and for artists and is neither a commercial nor a promotional platform. We encourage you to use this platform to present your artistic work and not to promote it commercially, which are two distinct motives. Likewise, this collaborative platform must not be used for inopportune or aggressive solicitation. Please do not contact database members to propose commercial offers.
The accounts that infringe this rule could be deleted. 
How to create Collectives & Groups, Organization, Venue & Festival pages?
Before creating pages, you must create your account. If you already have an account, you must be logged in.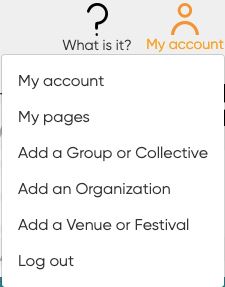 If you already have an account and are logged in, click on the "My account" icon then select the type of page you want to create. Is it...
a page to present a collective or a group?

a page to present another type of organization such as a media, a label, a distributor, a record shop owner, etc?

a page to present a venue or a festival?
When you're done, just use the form as your guide and fill in the requested information. 
The page created will be online upon approval from the database administrators. It can take a few days. Updates are immediately online.
I've noticed a mistake on a page, what should I do?
If you are on a person page, you can contact this person directly using the "Contact" link in the "Contact information" section on the right hand column.
For Collective or group, organization, venue or festival, you can contact the page owners, whose names appear on the "Owner(s)" section on the right hand column.
If it does not work, please contact the database administrators.
What if I think I should be the owner of a page?
Contact the page owner(s) whose name(s) appear(s) on the "Owner(s)" right hand column. The owner(s) may then grant you the rights to edit the page.
If it does not work, please contact the database administrators.
How can I suspend or delete my account? 
To delete your account, go to "My account" and select
  at the top right of the page
At the very bottom of the page, select
. A confirmation message will pop up followed by an email with a link to confirm the deletion of your account.
Will my personal email and telephone number be publicly displayed?
The e-mail and telephone number associated with your personal account will be public only if you want them to be.
The email is mandatory as it allows you to connect to the database. You can however choose to whom it is displayed by
Hiding your email but allowing visitors to contact you through the contact form

Hiding your email and allowing only logged-in visitors to contact you through the contact form

Making your email public
The telephone number is optional. If you choose to enter it, you can decide to whom it is displayed: 
Only to the persons logged into the database

To everybody

To nobody
Will my personal address be publicly displayed? 
Upon creating your account, you will only be asked to provide your city, not your personal address.
On the map, you will appear at the center of your chosen city. 
Who can access my personal information?
The personal information you enter are aimed at: 
addressing your request for subscription to the Improvisers Without Borders database

enabling you to introduce yourself and contact other database users

sending you information and invitations related to the SHARE project.
Only the database administrators can access your personal data. It is not shared with third parties, except for third parties hosting the website or involved in content production or website management.

To learn more about it, read our policy on the General Data Protection Regulation (GDPR).